CNG Mother Station
Located in suburb arterial traffic that is 5km away from the Bangkok, the VGT mother station is one of the largest mother station in Thailand so far, which is mainly responsible for supplying CNG for the substation of PTT (Petroleum Authority of Thailand). Put into use in December, 2009, the station's gas output is more than 300,000m3 per day, which can meet the requirement of 20 substations, 65 trailers are used for refueling all day long. Tongda Machinery offers 7 type D compressors ...
» Mother Station Flow Diagram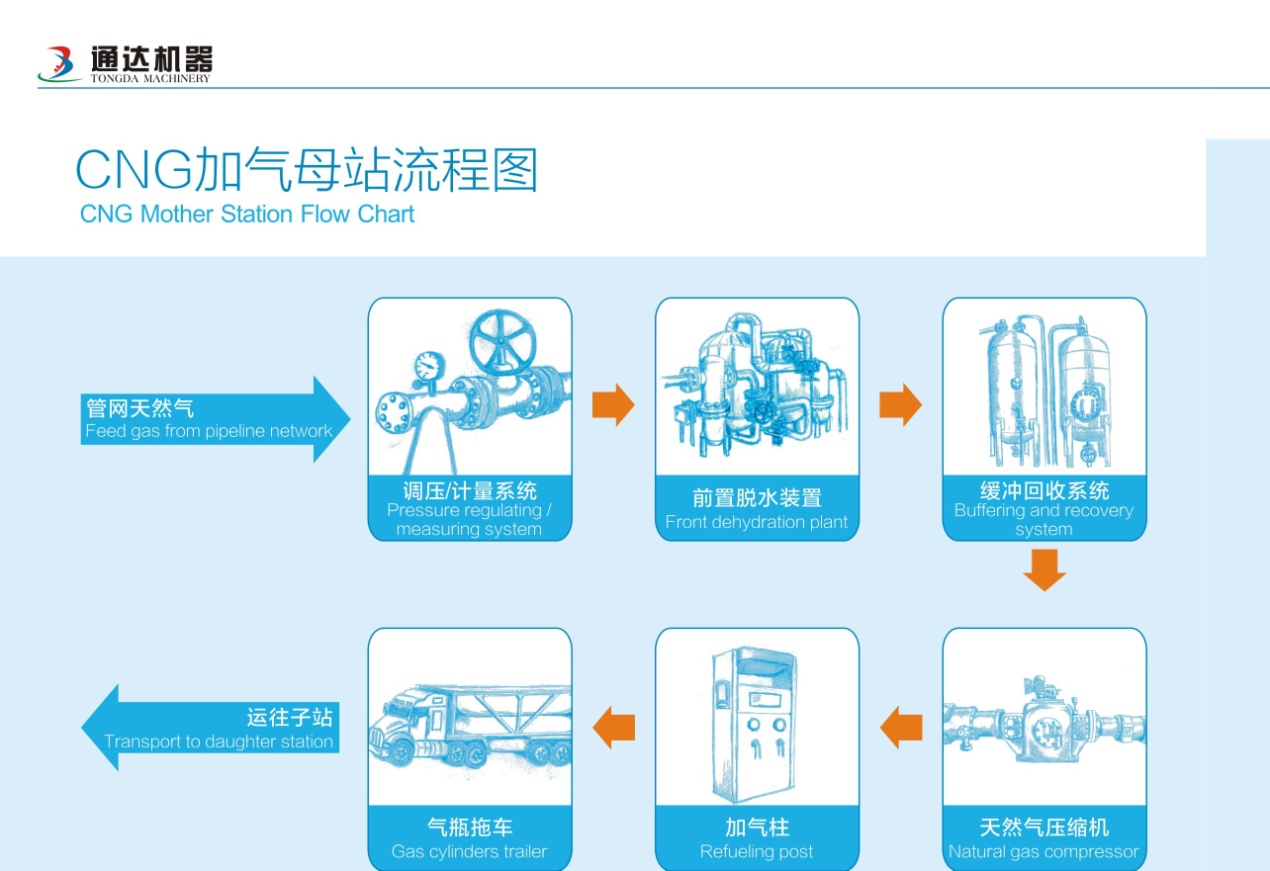 Components
The key equipments of mother stations are compressors, gas dryer, storage and dispensers, etc. Each equipment qty and parameters is designed to meet the clients' reasonable requirements for redundancy and additional capacity.
Typical CNG Station Equipment List (air/ water cooled compressor)
No.
Item
Sub-Item
Configuration
Qty.
1
Gas Regulation System
Pressure Regulator & metering Skid mounted
Pressure Regulator & Flow meter with Skid mounted,
1Set
2
Buffer Tank
5m3 Buffer Tank,  
5 m3Buffer Tank for Gas Filtration and Separation, Valves, Fittings
1pcs
3
Water cooled Compressor package
3.390mmscfd(4000 Nm3/h)  
Main Compressor, Interstage Coolers,  Each stage Separator,  Check Valve, Blowdown Valve,Interstages Coolers Relief Valve,  Flame-Proof Moter,  Gauge Display Control Panel at site,  Lubricant Bump Oil Injector,  Special tools, Spare Parts and Technical Docuets Packed with Equipment  each stage cooler 10)without compressor enclosure
 3Set
4

PLC Control Cabinet

(outside the enclosure of compressor)

Automated PLC based controls for operation and safety system
Siemens S7-200 control system Soft starter 7 inch Touch Screen Auto-starting Auto-Shut Down automatica blow down control auto-protect comperssor 
3Set
5
Gas dryer
9000Nm3/h
1 set gas dryer each one with capacity 9000Nm3/h
1 set
6
Water Cooling system
200 ton cooling tower
For three compressor heat-exchange
2pcs
7
Filling post 
5000M3/hr max
With Micro motion CNG 050 USA or E+H flow mass flow meter
3Set
8
Exhaust Gas Reclaim System
Blowdown, Gas and Oil Reclaim
One set 2m3 Gas blow down Tank, one set 1m3 Gas Sewage Tank (Including Stop Valve, Relief Valve, Fittings and Docs.)
1Set