Standard CNG Station
More than 100 CNG stations in Pakistan are utilizing equipments manufactured by Tongda Machine Company, even its largest CNG station is the client of our compressor.The scene of our foreign trade personnel accompany with Pakistan clients (Ahsan Petroleum CNG Station, adopted two large- capacity compressors typed D, is one of the biggest CNG stations in Pakistan. Moreover, the type D compressor adopts the American CATERPILLAR natural gas engine driven)...
JPN CNG  Station was the first CNG standard station in Thailand to adopt Chinese equipments, by utilizing three sets of Type D compressors—D-1.75/25-250 and 6 sets of gas dispensers in 2010. Our products have won widely appreciation of our clients with features of reliable quality and stable operation. Chinese compressors are also admired for its convenience for maintenance, low cost of accessories and operation, its quality is far beyond the clients' initial thought...

Since 2008, our company started exporting complete sets of equipments to the CNG station in Uzbekistan, including compressor, LPG dispenser, unit of gas bomb, buffer tank and other installation materials. Meanwhile, we have dispatched engineers to instruct the installation, debugging, operation and the training of the local personnel on site. At present, our equipments are applied in many cities, including Namangan and Bukhara....

Sichuan Chengdu Pengzhou Xingwei CNG Station has been in operation for more than 20 years. This station adopted two sets of L-7/3-250 CNG compressors that were manufactured by Tongda Company in 1992. Even the station is still in a good condition, it is the first station to adopt the CNG compressor and the longest CNG station in China. Besides, the compressor is featured stable operation, simple and extremely low cost of maintenance, which produces competitive economic benefit for the clients...
» General Description
Standard, conventional or online stations are descriptions of the similar type of CNG station. Standard CNG stations take natural gas from the pipeline and then compress and dispense it into various types of vehicles. 
» Standard Station Flow Diagram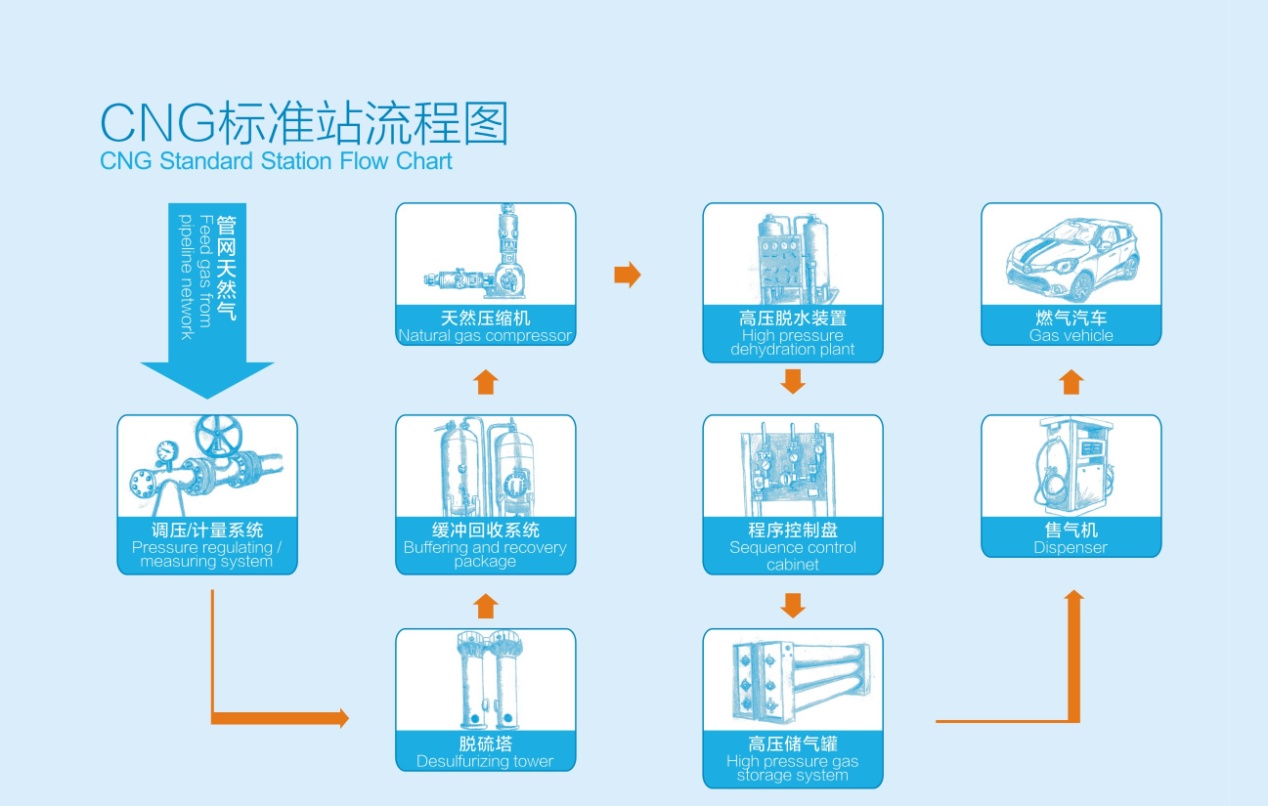 Components
The key equipments of Standard stations are compressors, gas dryer, storage and dispensers, etc. Each equipment qty and parameters is designed to meet the clients' reasonable requirements for redundancy and additional capacity.
Typical CNG Station Equipment List (air/ water cooled compressor)
| | | | |
| --- | --- | --- | --- |
| No. | Item |  Qty | Remark |
| 1 | Air/water cooled CNG compressor | 2 |   |
| 2 | Gas dryer | 1 |   |
| 3 | Storage system | 1 |   |
| 4 | Three lines Auto-priority panel   | 1 |   |
| 5 | Double hose dispenser   | 4 |   |